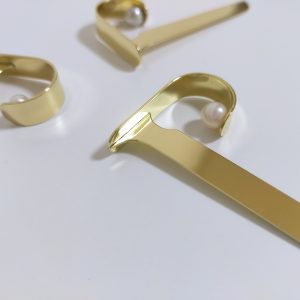 1. CONCEPT
[AKOYA PEARLS]
Pure bright and sophisticated shine. For your everyday look, always close to you.
[DIVERSITY]
A gift from the sea that comes in all shapes and colors, each one with its own personality.
[AFTER-SALES SERVICE]
Because each pearl is unique, I provide individual care. That way can enjoy your jewelry with complete peace of mind.
2.ABOUT
Hi everyone, nice to meet you!
My name is Keiko NISHINO.
I'm the CEO, creator and designer of GRACE PEARLS.
I created this brand of pearl jewelry, for which I select the pearls, design and craft the jewelry myself.
I was born on Shima Peninsula in the Mie prefecture, cradle of pearl farming.
My grandfather was running a pearl store in Ehime Prefecture. My childhood was bathed in pearls.
After spending 12 years as a teachers, I became drawn to pearls once again, and as a result I created GRACE PEARLS in 2019.
GRACE PEARLS is a brand that convey all my emotions.
[Love of my hometown]
I was born in Shima but grew up in Chiba.
I spent a lot of time during the Summer and New Year holidays in Shima and Ehime, building a lot of fond memories with my family. So for me Shima is more than just a birthplace, it's my hometown.
When I thought about starting my own business « I want my work to benefit my hometown » was the first thing that came to mind. It may be small but I'm happy to contribute to the local industry.
(My business is registered with Mie Prefecture.)
[Love of the sea]
The sea holds a very special place in my life, having swum in it or gone on boat trips since I was a child. During my years as a teacher, my favorite hobby was scuba diving in a lot of different seas around the world.

Sometimes I find the sea awe-inspiring. I discovered the world from under the sea and it made me understand how small mankind is amongst living species.
It reinforced my love toward nature and all living creatures.
Pearls can only grow in a clean environment. Mankind must be thankful for the blessings of the sea, and this must be passed on the next generations.
(We are making donations to an association protecting Mie Prefecture's Sea.)
[Love of beautiful things]
When I was a child I always wore my favorite pieces of clothing. I didn't need a lot of different things and I took really great care of my belongings.

I love vintage clothes, used books, antiquities and old kimonos. I love objects with a story. When I encounter something appealing to my heart, it's like I found a treasure.
As a person I'm committed to things, so as a creator it's really important that all my customers are satisfied.
▶︎When ordering a jewel you can choose different materials for the accessory parts.
▶︎Pearls are presented on photo so you can choose the pearl you like the most.
These are the feelings and philosophy that led me to open this store.
If you have any further requests or questions, please feel free to contact me.
3. INFORMATION
①Care for pearls
Acidity can dull the luster of pearls and sometimes also eat into the surface.
Before putting your pearls away, it is recommended that you wipe them gently with a soft cotton, silk or microfiber cloth.

Skin sebum can alter the shine of gold and silver parts.
As for the pearls, it is recommended that you wipe them gently with a soft cotton, silk or microfiber cloth to keep them shiny.

②About shipping and delivery methods
●Japan domestic shipping
For Japan-wide shipping, we use YAMATO TRANSPORT. The shipping fees are 515 Yens even for multiples items.
Orders are usually dispatched within 1-3 days after purchase.
●International shipping
We use EMS for international shipment. Upon purchase, please choose EMS.
It is a standard shipping method that supports tracking and damage compensation.
The amount varies depending on the destination.
ASIA ¥1900
EUROPE ¥3150
OCEANIA/Middle East ¥3150
South America/AFRICA ¥3600
North America/Central America/Other ¥3900
(2022/12/20)
●About packaging
Included contents: Paper box, drawstring jewelry bags, Thank you card, delivery sheet
●About gift wrapping
For every purchase we offer complimentary gift wrapping with a ribbon on the box.
③Information on trial fitting
If you want to see the jewels in person before purchase or even try them on, it's possible.
Contact me and we will arrange a meeting (only available in Tokyo).
[How to contact me]
1).Send me a message via the online shop
2).Fill the form directly on the official website (At the bottom of the top page)